Students in Cologne, Germany. Photo: Christian Bohl

Dear Ed,
The September 20 global climate strike is now just over two months away. And guess what? The fossil fuel industry is scared.

At the OPEC annual meeting of oil-producing countries in Vienna, its leader publicly admitted that our movement is the biggest threat to the oil sector, period. Fossil fuel executives' kids are coming to them asking why they're still killing the planet. That's powerful.
Our work is still cut out for us though. Politicians failed to act at the G20. The hosts Japan failed to bring any decisive action against coal. And as you'll read below in this issue of Fossil Free News, the World Heritage Committee of UNESCO failed the people of Bangladesh too.

We cannot afford many more failures. That's why millions of us are striking together for the climate on September 20. But we have to inspire millions more who've never before taken action to join if we want to tip the scales.
Can you help? I've got a special request this week: share a photo or a quick video of yourself holding a sign or explaining why you support the strikes. We've got a pack full of suggestions and templates if you need help.
Share it on social media with #ClimateStrike, with your friends and family, or email it to us at [email protected] so we can share. Your reasons for joining might resonate with someone unexpected and encourage them to join, too.

Don't underestimate your own power. We can all effect change in our communities and, in turn, the world. Of course, it'll take more than selfies alone – in the next issue we'll share a guide to help you organize your community and turn out friends, family, and colleagues in September.

Onwards,
Nicole
In Case You Missed It 
No more business as usual: School strikers came out again last Friday, despite students in many countries being on holiday. The first testimonies are trickling in on why people every are ready to answer students' calls and walk out of our workplaces on September 20. Companies are being forced to figure out how to respond too.



Mohammed Barkindo, OPEC's leader, says we're his biggest threat. Photo: Reuters

Getting under their skin: "Mobilization is beginning to...dictate policies and corporate decisions, including investment in the industry." The secretary general of OPEC, the global coalition of oil-producing countries, called climate activists "the greatest threat" to the oil industry. That's some pretty strong evidence of our theory that people power can tip the balance towards climate justice. Read more
Hard to breathe: A group of activists in Indonesia have moved to sue the government due to severe air pollution in Jakarta. In June, it topped the charts as the world's most polluted city. More

Oh, delay: Community activists have been on the ground pressuring UNESCO delegates at the World Heritage meeting in Baku, which closes on 10 July. Their demand? Protect both the Sundarbans mangrove forest in Bangladesh and the ancient coastal town of Lamu, Kenya, from coal.
UNESCO expressed deep concern for the Lamu coal plant, which had its license revoked in June. But references to coal were scrapped from the Sundarbans resolution, and delegates disappointingly delayed key decisions until next year. More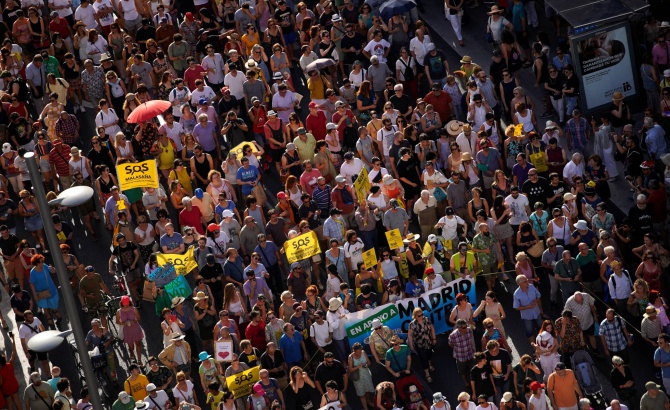 Photo: Juan Medina, Reuters

People power wins again: An impressive 60,000 people took to the streets of the Spanish capital last Saturday, to protest against the scrapping of an emissions-free zone in Madrid's city center. Emissions spiked, and five days later a court reinstated the zone. More

'A global phenomenon': Legal action against global heating and the climate crisis has spread to 28 countries. A new study charting lawsuits brought against companies and governments since 1990 counted over 1,300 cases and sees this as an increasingly effective tactic for climate justice. More
The Inside Story 

People in Brazil send messages of #ClimateStrike solidarity to Arshak Makichyan on July 1. Photos

For 17 Fridays in a row, a teenager from Moscow has gone on climate strike – alone. That's because unapproved protests of more than one person are illegal in Russia. He organized a flashmob, #LetRussiaStrikeForClimate, and is gaining support from people abroad this week. More on this story and don't forget to share on #ClimateStrike a message of support of your own. 


The One to Watch
 

"If other people are already suffering the impacts of coal power, why are we doing more of the same thing and expecting a different result?"
Omar Elmawi of the DeCOALonize movement in Kenya spoke to CNBC Africa about the successful campaign to stop the first coal plant in East Africa, at Lamu. Watch
Use Your Power
It's time to build some buzz – and we need everyone. This promo pack lays out 5 simple ways you can help spread the word about the September 20 strike – whether you've only got a minute or you've got more time to create content of your own.

That's it for now. Thanks for reading this edition of Fossil Free News – we'll be back in two weeks with more.


Did you read this email? Help us out and tell us how you liked it: